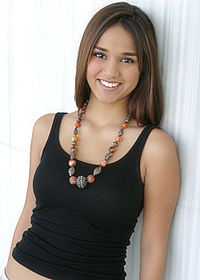 Summer Yasmine Bishil (born July 17, 1988) is an American actress. She first came to prominence for her role as Jasira in the 2007 film Towelhead. She was chosen to portray Azula in M. Night Shyamalan's film The Last Airbender. She also played Leila in 90210 with a total of 4 Episodes. She plays Samira in
Lucky 7
Summer Bishil was born in Pasadena, California. When she was three, her family moved to Saudi Arabia and, two years later, relocated to the small island Kingdom of Bahrain. There Bishil and her brother attended The British School of Bahrain and the U.S. Department of Defense School, where she trained intensely on the school swim team with professional coaches. In 2003 the family returned to Southern California.
Immediately upon returning, Bishil began pursuing her dream of becoming an actress by enrolling in acting class. A few years later, in 2006, she was selected after an arduous audition process to play the lead role in Alan Ball's "Towelhead," the film adaptation of the novel by the same name. Her performance garnered a nomination for an Independent Spirit Award in the Best Actress category.
In the years following, Bishil has appeared in many films, including Wayne Kramer's "Crossing Over," alongside Harrison Ford and Ashley Judd, M. Night Shyamalan's "The Last Airbender" and "Mooz-lum," opposite Danny Glover and Evan Ross. She has also made multiple appearances on television.
Bishil currently lives in Southern California.
PERSONAL INFORMATION HOMETOWN Kingdom of Bahrain BIRTHDATE July 17